Visa
International participants may need a visa to enter Canada. To receive an invitation letter from the Local Organizing Committee you must be registered for the Symposium. Please complete an invitation letter request form if you need an invitation.
Accommodations
CHATEAU NOVA YELLOWKNIFE IN YELLOWKNIFE, NT, CANADA
The Chateau Nova is located at 4571 48 Street in Yellowknife, NT, Canada (X1A 0E2). The Chateau Nova Yellowknife is a brand new, full service, conference hotel with great amenities including a fitness centre, steam room and sauna, and Quarry Restaurant and Lounge. Chateau Novais conveniently located in the Northeast area of downtown Yellowknife, approximately 5 kilometres from the airport with easy access to the Ingraham Trail and Yellowknife Highways.
Rooms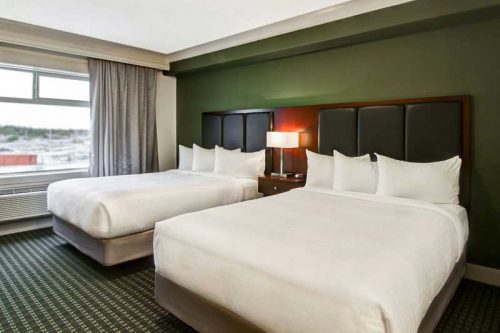 A block of rooms has been reserved for participants at the Chateau Nova Hotel between August 17-24, 2019. The conference rate is $164 per night + applicable taxes. There are 1 and 2 Bedroom Suites available.
To reserve using a credit card, follow this link or call 1.866.722.6682 and use group code 4265173 under Northern Research Basins Symposium. The group discounted rate will only be in effect until May 31, 2019. Don't delay in booking your accommodations!
Direct phone: 867.766.6682
Fax: 867.766.6686
Email: yellowknife@novahotels.ca
Tourism Information
If you are extending your stay in Yellowknife or need assistance with planning your visit, please contact Northwest Territories Tourism.
Getting Around Yellowknife
Yellowknife is very walkable, and most accommodations, restaurants, and sights are within a 5-20 minute walk of each other. Download a map of Yellowknife (pdf).
Airport Shuttle
The Chateau Nova has a free airport shuttle. The schedule coincides with the arrival and departure of major carriers.
Taxi
There are two main taxi companies in Yellowknife: City Cab (867.873.4444) and Aurora Taxi (867.873.5050). Taxis from the airport to downtown are around $15-$17. Add $5-10 for destinations in Old Town.
Car Rental
Yellowknife is serviced by three national car rental companies: National, Budget, and Hertz.
Bus
Information about local transit routes, schedules, and fares is available here.
Food and Drink
Meals will be included in your registration costs, however, should you choose to venture out from Chateau Nova, Yellowknife has an eclectic mix of dining options from cafés and pubs to food trucks and restaurants. A few of our favourites include:
BIRCHWOOD COFFEE KÓ: Some of the city's best coffee, perfect companion to homemade cinnamon buns or a Bannock 'N Egger. 5021 49th Street (Downtown).
BULLOCKS BISTRO: An Old Town must. Heaping portions of local fish or wild game that you'll be talking about for months. 3534 Weaver Drive. (Old Town).
THE BLACK KNIGHT PUB: A popular after-work watering hole, this Scottish pub offers hearty pub fare, daily specials (Greek Knight, Wings Knight, etc.) and a large selection of beer on tap. 4910 49th Street (Downtown).
GOLD RANGE BISTRO: A local favourite for its hearty breakfast and sassy servers. Western and Chinese dishes are served up in this classic diner-styled eatery. 5010 50th Street (Downtown).
MUSEUM CAFÉ: Café fare (the catch of the day is popular) with a Northern touch, served up in a sunlit room on the second level of the Prince of Wales Northern Heritage Centre. Open for weekday lunches only. 4750 48th Street (Downtown).
THE WOODYARD: Yellowknife's very own brew pub. This popular Old Town establishment offers hearty meals and made-in-the-NWT suds. 3905 Franklin Avenue (Old Town).
ZEHABESHA: This downtown spot offers richly flavoured traditional Ethiopian food (vegetarian and non-vegetarian offerings), along with some western items. 5004 51st Avenue (Downtown).
Check out Food & Drink section of the Yellowknife Visitor's Guide for more options.